Viral Specimen Collection 3ml Universal Transport Medium Sterile Nasopharyngeal throat Flocked Swab
【Packing specifications】
Model: Non-Inactivated
Specification: 3mL/pc; 50pcs/box
【Intended use】
For the collection and delivery of clinical virus samples.
【Principle】
The solution in the inactivated sampling tube contains guanidine salts and other components, which can quickly cleave the virus to release nucleic acids and prevent nucleic acid degradation .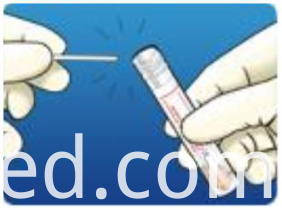 [Main components]
---
【Storage conditions and expiration date】
Store at 2 ~30 ℃ in a dark place and dry place. Valid period is 12 months
【Applicable Instruments】
No special instrument is required for the operation of this sampling tube .
[Sample requirements]
1. Samples should be transported to the laboratory for testing immediately after collection ; if they cannot be delivered immediately , they should be stored at -70 ℃ or below and sent to the laboratory for testing within one week .
2. The sample should avoid repeated freezing and thawing .
【Testing method】
1. According to the sampling requirements, use a sampling swab to collect samples;
2. Place the sampling swab after collecting the sample into the sampling tube;
3. Break the swab at the easy break point of the sampling swab rod and discard the tail;
4. Tighten the sampling tube cover;
5. Mark the information on the sampling tube label as required .
【Product Performance Index 】
1. Appearance
Inactivated: tube should be no damage and no leakage, the inner tube solution is orange or orange- red, clear liquid .
2. Loading
The volume of the tube should not be less than the indicated value.
3. pH value
Inactivated: when 25 ℃, pH value should be 6.5 ± 0. . 3 .
4. Difference between batches
Randomly draw three sampling tubes of different batch numbers to test the pH value, and the results should meet the requirements under the pH value item.
5 . Stability
To random sample within one month lifetime , were detected from 1 to 3, the result should comply with the requirements of 1 to 3 .
[Limitations of detection methods]
1. Samples must be collected following the clinically recommended sample collection guidelines .
2. Repeated freezing and thawing of samples may reduce the recovery rate of living organisms.
3. The Virus Sampling Tube is only used for the collection and transportation of virus samples.
4. poly propylene or nylon flocked swab for specimen collection.
5. This product should be used in combination with Rapid Diagnostic kits or diagnostic instruments.
【Precautions】
1. This product is only used for in vitro diagnostics, for use by qualified personnel properly trained , before use should carefully read the instructions and follow carefully .
2. Each serving is for one person, for one-time use. Do not use it on more than one patient. Repeated use may lead to infection and/or inaccurate risks.
3. The sample may have microbiological risks, so when handling all items, the standard protection requirements of the medical institution should be followed.
4. After use, sterilize all biohazardous wastes (including samples, containers and media, etc.).
5. Do not re-sterilize unused swabs, the swabs are obviously damaged, please do not use.
6. It is forbidden to directly contact the sampling liquid with the person being collected, and it is forbidden to soak the swab with the sampling liquid before sampling .
7. Products that have expired or the product packaging is damaged shall not be used.
8. When the samples are tested, they should be operated in a laboratory that meets the safety level.
【References】
1. National Influenza Surveillance Technical Guide (2017 edition) .
2. Influenza A H1N1 Influenza Surveillance Plan (Second Edition) .
3. WHO global influenza network surveillance program .
Looking for ideal Sterile Nasopharyngeal Throat Flocked Swab Manufacturer & supplier ? We have a wide selection at great prices to help you get creative. All the Viral Specimen Collection are quality guaranteed. We are China Origin Factory of ABS Medical Supplies Swab. If you have any question, please feel free to contact us.